The Bronx Hispanic Festival (BxHF) is a not-for-profit, 501[c] 3 organization founded in 1999 with a mission to empower, enhance, and motivate self-esteem.
The Bronx Hispanic Festival promotes awareness and appreciation of the Hispanic culture through it's exhibitions, cultural programs, and website publications.
It is the mission of The Bronx Hispanic Festival to present the work of both established and emerging Latin Amercian artists through it's programs and Annual Biennial Exhibition.
In 1990 under the leadership of Luis Stephenberg staff members of Lincoln Hospital Center banded together to form the Puerto Rican Culture committee. It was the objective of the committee to celebrate the accomplishments made by the Puerto Rican community to the hospital, the Bronx and New York City in general. Linda Morales , Millie Camacho, Leandro Monzon play an inportant roll in the organization.
As the community grew and became more diversified, the group expanded and changed along with it. In 1999, joined by other professional Hispanic community leaders, L Stephenberg founded  the Bronx Hispanic Festival . This new group now represented various additional professions to include, in addition to members of the Lincoln Hospital, members from the fields of Education, Visual Arts and Theater. Linda Morales Tomas Gala, Alfonso Gaston, Alexis George was active members of the initiative. Finally, in 2007 the committee was incorporated as a 501(c)3 not-for-profit organization called the Bronx Hispanic Festival, Inc. (BxHF).
The Bronx Hispanic Festival hosts the Hispanic Heritage Month Celebration in the borough of the Bronx.  The Festival, in partnership with community based organizations and various sponsors, launches events designed to unite the growing and diverse Latino population. Our programs are culturally tailored to reach out to schools, senior centers, and the general public.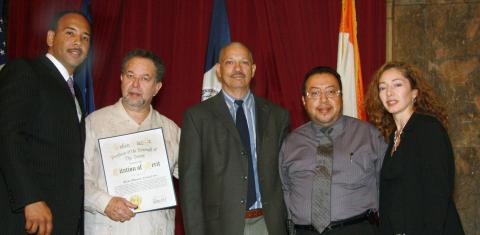 Awards
September 16, 2009
Citation of Merit
"Bronx Hispanic Festival, Inc."
President of the Borough of The Bronx
Ruben Diaz, Jr.
March 27, 2008
"Bronx Latin American Biennial"
Bronx Council on the Arts
Proclamation, September 13th to October 15th 2007
"Hispanic Heritage Month"
President of the Borough of The Bronx
Adolfo Carrión, Jr.
October 11, 2007
Letter of Commendation
"Hispanic Youth Day"
Michael R. Bloomberg, Mayor City of New York