"Abya Yala: Structural Origins": Pre-Columbian, African, European influence and the compulsive change of the contemporary era.
"Abya Yala: Structural Origins" examines the various processes and forms of creation inspired by traditional methodologies, materials and concepts which were implemented during the different stages of cultural and intellectual growth in the American continent. This project explores the inevitable repercussion that past generations had on the aesthetic, cultural or social values ​​present in contemporary art in Latin America today. 

This project also refers to the evolutionary processes in the arts which have influenced the different transformations that Latin American art has undergone. In the exhibitions that make up this edition of the 2022 New York Latin American Art Triennial (NYLAAT) we also try to establish the link between contemporary art in the continent and the premeditated use of materials, elements and forms of autochthonous expression of the first inhabitants of this region from the mats, baskets, goldsmith, pottery, textiles, altars, rituals, paintings closely related to tapestry, sculptures in clay, stone, metal, etc.
Abya Yala, which means Mature Land, Living Land or Flowering Land, was the term used by the Kuna, an original nation living in Colombia and Panama, to designate the territory comprised by the American Continent. According to the historical moment lived, they referred to this territory in a different way: Kualagum Yala, Tagargun Yala, Tinya Yala, and Abya Yala, the latter being the one that coincided with the arrival of the Spanish and which becomes a call to the unity of the peoples to keep their origin present and to continue their path following the footsteps of their ancestors. 
In the American continent there is a great cultural diversity, either due to the inheritance left by the cultures of the native nations, the European cultures that conquered the continent on the XVI century and their consequent process of mix-races, or due to migratory processes. (forced and voluntary), Latin America has a large number of denominations that define this cultural diversity. 
This NYLAAT 2022 presents works and art proposals based on the term Abya Yala, which is itself a symbol of identity and respect for the roots of indigenous peoples, we use it as a starting point to explore the direct connection between the original practices inherited from our ancestors and contemporary art.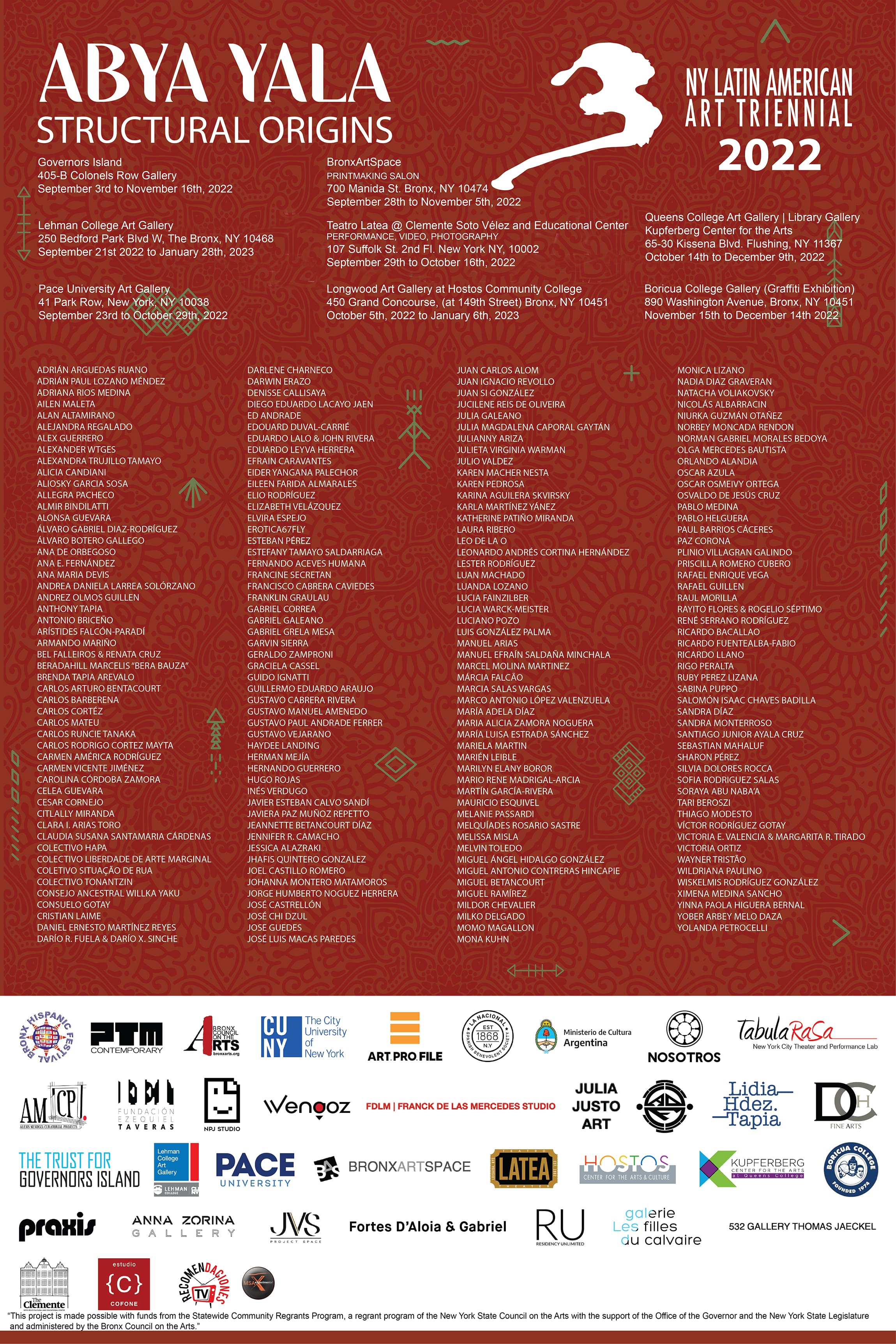 Abya Yala: Structural Origins
Openings in New York

 

Governors Island
405-B Colonels Row Gallery
September 3rd to November 16th, 2022
BronxArtSpace
PRINTMAKING SALON
700 Manida St. Bronx, NY 10474
September 28th to November 5th, 2022
Lehman College Art Gallery
250 Bedford Park Blvd W, The Bronx, NY 10468
September 21st 2022 to January 28th, 2023
Teatro Latea @ Clemente Soto Vélez and Educational Center
PERFORMANCE, VIDEO, PHOTOGRAPHY
107 Suffolk St. 2nd Fl. New York NY, 10002
September 29th to October 16th, 2022
Pace University Art Gallery
41 Park Row, New York;,NY 10038
September 23rd to. October 29th 2022
Boricua College Gallery (Graffiti Exhibition)
890 Washington Avenue, Bronx, NY 10451
November 15th to December 14th 2022
Participating Artists:
ADRIAN ARGUEDAS RUANO
ADRIAN PAUL LOZANO MENDEZ
ADRIANA RIOS MEDINA
AILEN MALETA
ALAN ALTAMIRANO
ALEJANDRA REGALADO
ALEX GUERRERO
ALEXANDER WTGES
ALEXANDRA TRUJILLO TAMAYO
LICIA CANDIANI
LIOSKY GARCIA SOSA
LLEGRA PACHECO
LMIR BINDILATTI
ALONSA GUEVARA
ALVARO GABRIEL DIAZ-RODRIGUEZ
ALVARO BOTERO GALLEGO
ANA DE ORBEGOSO
ANA E. FERNANDEZ
ANA MARIA DEVIS
ANDREA DANIELA LARREA SOLORZANO
ANDREZ OLMOS GUILLEN
ANTHONY TAPIA
ANTONIO BRICENO
ARISTIDES FALCON-PARADI
ARMANDO MARINÉO
BEL FALLEIROS & RENATA CRUZ
BERADAHILL MARCELIS "BERA BAUZA"
BRENDA TAPIA AREVALO
CARLOS ARTURO BENTACOURT
CARLOS BARBERENA
CARLOS CORTEZ
CARLOS MATEU
CARLOS RUNCIE TANAKA
CARLOS RODRIGO CORTEZ MAYTA
CARMEN AMERICA RODRIGUEZ
CARMEN VICENTE JIMENEZ
CAROLINA CORDOBA ZAMORA
CELEA GUEVARA
CESAR CORNEJO
CITLALLY MIRANDA
CLARA I. ARIAS TORO
CLAUDIA SUSANA SANTAMARIA CARDENAS
COLECTIVO HAPA
COLECTIVO LIBERDADE DE ARTE MARGINAL
COLETIVO SITUAGAO DE RUA
COLECTIVO TONANTZIN
CONSEJO ANCESTRAL WILLKA YAKU
CONSUELO GOTAY
CRISTIAN LAIME
DANIEL ERNESTO MARTINEZ REYES
DARIO R. FUELA & DARIO X. SINCHE
DARLENE CHARNECO
DARWIN ERAZO
DENISSE CALLISAYA
DIEGO EDUARDO LACAYO JAEN
ED ANDRADE
EDOUARD DUVAL-CARRIE
EDUARDO LALO & JOHN RIVERA
EDUARDO LEYVA HERRERA
EFRAIN CARAVANTES
EIDER YANGANA PALECHOR
EILEEN FARIDA ALMARALES
ELIO RODRIGUEZ
ELIZABETH VELAZQUEZ
ELVIRA ESPEJO
EROTICA67FLY
ESTEBAN PEREZ
ESTEFANY TAMAYO SALDARRIAGA
FERNANDO ACEVES HUMANA
FRANCINE SECRETAN
FRANCISCO CABRERA CAVIEDES
FRANKLIN GRAULAU
GABRIEL CORREA
GABRIEL GALEANO
GABRIEL GRELA MESA
GARVIN SIERRA
GERALDO ZAMPRONI
GRACIELA CASSEL
GUIDO IGNATTI
GUILLERMO EDUARDO ARAUJO
GUSTAVO CABRERA RIVERA
GUSTAVO MANUEL AMENEDO
GUSTAVO PAUL ANDRADE FERRER
GUSTAVO VEJARANO
HAYDEE LANDING
HERMAN MEJIA
HERNANDO GUERRERO
HUGO ROJAS
INES VERDUGO
JAVIER ESTEBAN CALVO SANDI
JAVIERA PAZ MUNOZ REPETTO
JEANNETTE BETANCOURT DIAZ
JENNIFER R. CAMACHO
JESSICA ALAZRAKI
JHAFIS QUINTERO GONZALEZ
JOEL CASTILLO ROMERO.
JOHANNA MONTERO MATAMOROS
JORGE HUMBERTO NOGUEZ HERRERA
JOSE CASTRELLON
JOSE CHI DZUL
JOSE GUEDES
JOSE LUIS MACAS PAREDES
JUAN CARLOS ALOM
JUAN IGNACIO REVOLLO
JUAN SI GONZALEZ
JUCILENE REIS DE OLIVEIRA
JULIA GALEANO
JULIA MAGDALENA CAPORAL GAYTAN
JULIANNY ARIZA
JULIETA VIRGINIA WARMAN
JULIO VALDEZ
AAREN MACHER NESTA
KAREN PEDROSA
KARINA AGUILERA SKVIRSKY
KARLA MARTINEZ YANEZ
ATHERINE PATINO MIRANDA
LAURA RIBERO
LEO DELAO
LESTER RODRIGUEZ
LUAN MACHADO
LUANDA LOZANO
LUCIA FAINZILBER
LUCIA WARCK-MEISTER
LUCIANO POZO
LUIS GONZALEZ PALMA
MANUEL ARIAS
MANUEL EFRAIN SALDANA MINCHALA
MARCEL MOLINA MARTINEZ
MARCIA FALCAO
MARCIA SALAS VARGAS
MARCO ANTONIO LOPEZ VALENZUELA
MARIA ADELA DIAZ
MARIA ALICIA ZAMORA NOGUERA
MARIA LUISA ESTRADA SANCHEZ
MARIELA MARTIN
MARIEN LEIBLE
MARILYN ELANY BOROR
MARIO RENE MADRIGAL-ARCIA
MARTIN GARCIA-RIVERA
MAURICIO ESQUIVEL
MELANIE PASSARDI
MELQUIADES ROSARIO SASTRE
MELISSA MISLA
MELVIN TOLEDO
MIGUEL ANGEL HIDALGO GONZALEZ
MIGUEL ANTONIO CONTRERAS HINCAPIE
MIGUEL BETANCOURT
MIGUEL RAMIREZ
MILDOR CHEVALIER
MILKO DELGADO
MOMO MAGALLON
MONA KUHN
LEONARDO ANDRES CORTINA HERNANDEZ
MONICA LIZANO
NADIA DIAZ GRAVERAN
NATACHA VOLIAKOVSKY
NICOLAS ALBARRACIN
NIURKA GUZMAN OTANEZ
NORBEY MONCADA RENDON
NORMAN GABRIEL MORALES BEDOYA
OLGA MERCEDES BAUTISTA
ORLANDO ALANDIA
OSCAR AZULA
OSCAR OSMEIVY ORTEGA
OSVALDO DE JESUS CRUZ
PABLO MEDINA
PABLO HELGUERA
PAUL BARRIOS CACERES
PAZ CORONA
PLINIO VILLAGRAN GALINDO
PRISCILLA ROMERO CUBERO
RAFAEL ENRIQUE VEGA
RAFAEL GUILLEN
RAUL MORILLA
RAYITO FLORES & ROGELIO SEPTIMO
RENE SERRANO RODRIGUEZ
RICARDO BACALLAO
RICARDO FUENTEALBA-FABIO
RICARDO LLANO
RIGO PERALTA
RUBY PEREZ LIZANA
SABINA PUPPO
SALOMON ISAAC CHAVES BADILLA
SANDRA DIAZ
SANDRA MONTERROSO
SANTIAGO JUNIOR AYALA CRUZ
SEBASTIAN MAHALUF
SHARON PEREZ
SILVIA DOLORES ROCCA
SOFIA RODRIGUEZ SALAS
SORAYA ABU NABA'A
TARI BEROSZI
THIAGO MODESTO
VICTOR RODRIGUEZ GOTAY
VICTORIA E. VALENCIA & MARGARITA R. TIRADO
VICTORIA ORTIZ
WAYNER TRISTAO
WILDRIANA PAULINO
WISKELMIS RODRIGUEZ GONZALEZ
XIMENA MEDINA SANCHO
YINNA PAOLA HIGUERA BERNAL
YOBER ARBEY MELO DAZA
YOLANDA PETROCELLI
Made possible with funds from the Statewide Community Regrants Program, a regrant program of the New York State Council on the Arts with the support of the Office of the Governor and the New York State Legislature and administered by the Bronx Council on the Arts."