The Box Art Project or "Cajarte 2007" was part of the original Biennial exhibit called the Pre-Biennial. Curators Alexis Mendoza, Miguel Lescano, and Luis Stephenberg began their series of Annual exhibitions with the First Bronx Latin American Art Biennial in 2008.  As part of the multiple exhibitions of the Pre-Biennial, the 2007 "Cajarte" Temporary Installation at the corner of 149th Street and Third Avenue and outside the Bronx Museum along with several cultural and educational organizations, produced spaces that promoted the reflection and contemplation of cultural and social conditions.  The Festival is active all year, planning gallery exhbitions of painting, sculptural mixed media, installatiions, performances, and video art.  There are artists' talks, awards, theatrical events and a book fair. All events are free and open to the public.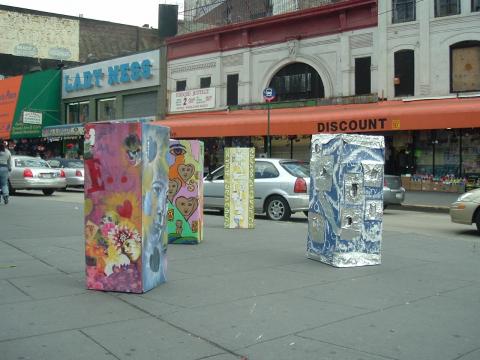 The Box Project is a child event dependent on the artists selected for the Biennial.  The project's goal is to produce a serious curation of art work in 2 workshop events and collectively exhibit the work in public for an extended time in the gallery and on the street.  
While everyday cardboard may not seem to be the most high-tech material, that's what Bronx Latin American Art Biennial curators have used since 2006.  Each artist got two boxes and materials.  Some artists chose to do the work themeselves, others chose to work with a group.
The Festival Curatorial Panel selects the artist-public collaboration from a pool of applicants drawn from schools, senior centers, youth and neigborhood organizations, Lincoln Hospital, community members and professional artists engaged in collaborations based on producing and exhibiting original creative work.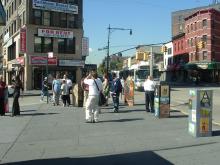 Cajarte 2007 featured dozens of the same sized cardboard boxes, as a physical support for painting and collage, with the boxes arranged in a specific order for display.  The Box project affirms that there is only one authentic and universal communication: the exchange of representation through the language of collage, painting, and scuplture.  
In locating the display outdoors in a street environment, the unexpected boxes create an architectural icon that contrasts the highly controlled space of the gallery to the cultural and actual noise of the street.