Since the staging of a pre-Biennial in 2007, Luis Stephenberg, Alexis Mendoza, and Miguel Lescano have presented art exhibitions, free and open to the public, every two years at a number of locations in the Bronx.  In 2008, they presented the First Bronx Latin American Art Biennial.  The inaugural art show in 2008 explored the themes of memory and history.  The 2016 Biennial will be the Fifth Annual Bronx Latin American Art Biennial.
The 2008 Biennial had three exhibitions and a panel. Escaping was presented at the Lincoln Hospital Exhibition Space. Artists included Auberto Baque, Bernardo Navarro, Carlos Chaves, Karmenza de Ely, Erick Sánchez, Federico Junca, Luis Morales, Paul Cabezas, Sonia Rodríguez, Zulay Valero, Fabricio Pernilla, Fernando Allende, Abraham Ushina, Carlos A Otero, and Michael Silvers. A film festival and awards night was presented at Lincoln Medical Center's Auditorium.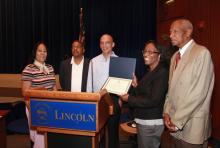 Premonitions was presented at the Gordon Parks Gallery.  Artists included Amy Ponce, Jose Gutierrez, Adal Maldonado, Pepe Coronado , Sandra Valenzuela,(Sandra San), Juan Sanchez, Hector Donovan,  Rigo Peralta, Ramon Peralta, Zaida del Rio, Pedro Roig, Ismael Checo, Raul Morilla, Jose Luis Cuevas, Angelo Romano, Luisa Michelsen, Liliana Avalos, Fernando Bedoya, Rocio Rendon, Olga Englemann, and Danilo Vallejos.
Legends of Identity was presented at Boricua College Bronx Center.  Artists included Benito Cabana, Carlos Fajardo, Daisy Mora, Fernando Penalosa, Frances J  Aponte, Pancho Guerra Garcia, Gustavo Castano(Kastano), Hamlet Zurita, Iñaki Rocha, Isabel Echevarria,  Jose Gomez,  Jose Luis Ortiz, Julia Justo, Marcel Velaochaga, Maricarmen Felices, Maritza Van Pol, Saroska, Stanley Gavidia, Victor Cuya, Juanita Lanzo, and Felix Moya.
Reference of Time was presented at the Bronx Museum of Art, Project Space. Artists included Teo Freytes, Kcho, Ana Ruiz Castillo, Diogenes Ballester, Alfredo Marquez, Alejandro Angeles, Luis Garcia Nerey, Sebastian Patane Masuelli, Miguel Lescano, Eliza Merino, Erik Gonzales, Fernando Magdaleno, Jorge Miyagui, and Moses Ross.
A symposium titled, History and Memory was presented at the Bronx Museum of Art.  Panelists included Tomas Galan,Professor, Dept.of Humanities, City University of New York; Holly Block, Executive Director of the Bronx Museum of Art; Diogenes Ballester, Contemporary artist; Ricardo Leon Pena-Villa Independent Curator, Art Critic, Journalist, Poet, Activist; and Juan Sanchez Contemporary Artist, Professor of Art at Hunter College City University of New York.